Five Tips To Create The Ideal Media Room In Charlotte
The latest audio and video technology makes it easy to enjoy gaming, movies, and your favorite TV shows while relaxing in your own space. This is the rationale behind why residents of Charlotte continue to create home media rooms. You might be wondering: What do you need to design a fabulous home media room? From ideal window treatments to soundproofing, here are five tips for creating a media room in Charlotte that the whole family will enjoy.
#1 Manage Exterior Light With Plantation Shutters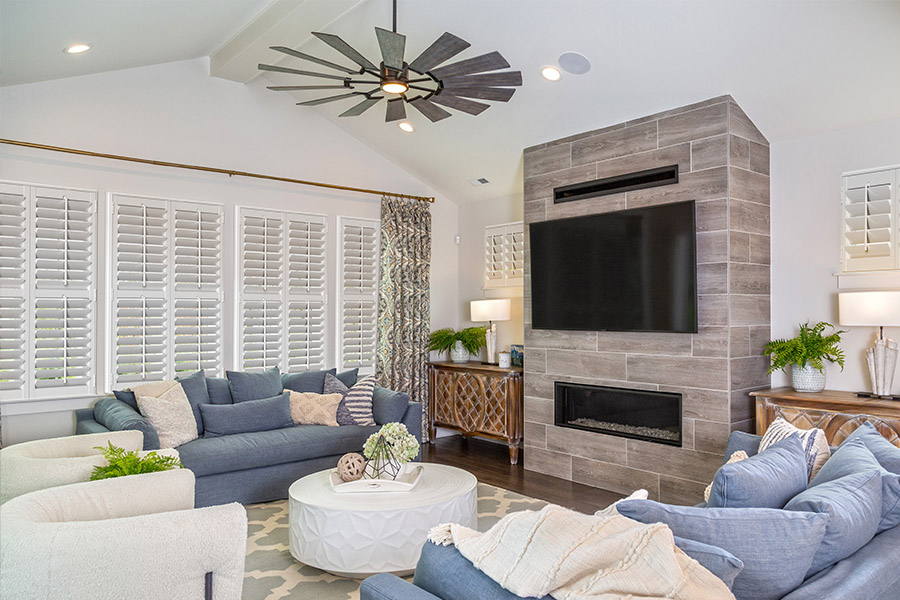 Nothing ruins your movie night like the sun's rays on the screen. Adjustable interior lights are nice, but what what's best for exterior light? Install
plantation shutters for window treatments
in your media room in Charlotte for the best light control. Louvered shutters include a solid outer frame that encompasses your window's frame to block outside light. These durable products also incorporate panels on hinges with moveable slats that shut closely to achieve almost total darkness. Or tilt the louvers up or down to move light away from screens or your sightline without making your space seem like an underground cavern.
If you use Polywood® shutters, you'll get better energy conservation as well. These faux-wood shutters stop UV rays and drafts to keep your media room at an agreeable temperature. They can prevent up to 30 degrees of temperature transfer, saving you money on utility costs.
#2 Improve Your Media Room's Sound Quality With A Couple Minor Refurbishments
Once you fix the illumination in your Charlotte media room, tackle the acoustic environment. Drywall is adequate for media rooms walls, but the concrete in your basement deteriorates the clarity of sound. The easiest solution to minimize echoing in your lower ground media room is by putting up acoustic panels. When you have to resolve the sound issues in your media room, select DIY sound barrier or absorption materials. You can then proceed with window treatments, like shutters, to block out outside noise.
#3 Choose The Appropriate Devices
The appropriate electronics will provide excellent acoustics as well. Start with your surround sound system. Numerous residents prefer devices with Wi-Fi capability because there's no need to trouble yourself with running wires.
Don't forget about getting a high-def TV. LCD and LED TVs offer excellent brightness, but 4k TVs typically have better contrast levels and wider viewing angles. You might also choose a projector-style setup for a large media room. No matter what video option you select, place it higher up your wall for improved viewing angles.
#4 Choose Comfy Furniture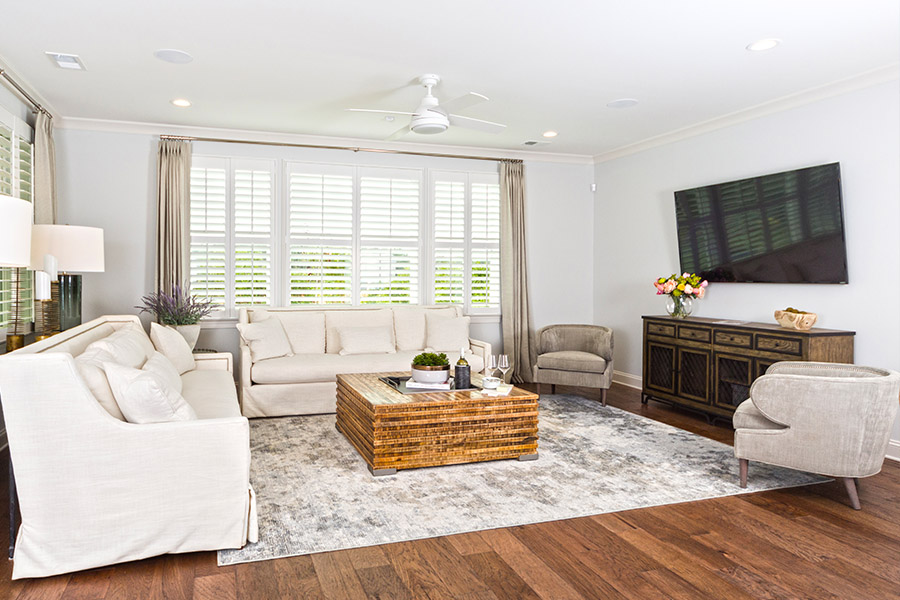 It's hard to enjoy your favorite show without a comfy seat. If you're going for home theater vibes, look for theater seating with reclining backs and cup holders for your drinks. If video games are your jam, invest in the right number of gamer chairs. A spacious sectional is a good idea too. And don't forget several super-soft blankets and pillows to hunker down for those nights of binge watching.
#5 Set The Tone With A Fun Theme
You can decorate however you would like when creating a media room in Charlotte. Do you associate with a particular sports team? Do you want to give the impression that you're inside a genuine theater? Framed movie posters, an antique style popcorn machine, and vivid colors can underscore your media room's purpose.
If you want a more subtle appearance, customize using a favorite color scheme. Warmer hues with wooden accents and complementary Ovation® shutters will make your media room feel snug. You might also make it light and airy with soft neutral hues and Polywood shutters.
Consult With Sunburst About Window Treatments For Your Media Room In Charlotte
The experts at Sunburst Shutters Charlotte are here to help you pick the perfect window treatments for your media room. At your no-cost on-site appointment, we present how sample products look in your home before making your ultimate choice. Request yours today by reaching out to 980-231-1116 or by filling out the following form.