Your Source for Gastonia Plantation Shutters, Blinds & Shades
When you look at some of the most beautiful homes in Gastonia, your eyes are automatically drawn to their windows. Since 2015, Sunburst Shutters Charlotte has helped make those homes and their windows look their absolute best by offering the best plantation shutters, blinds and shades in Gastonia.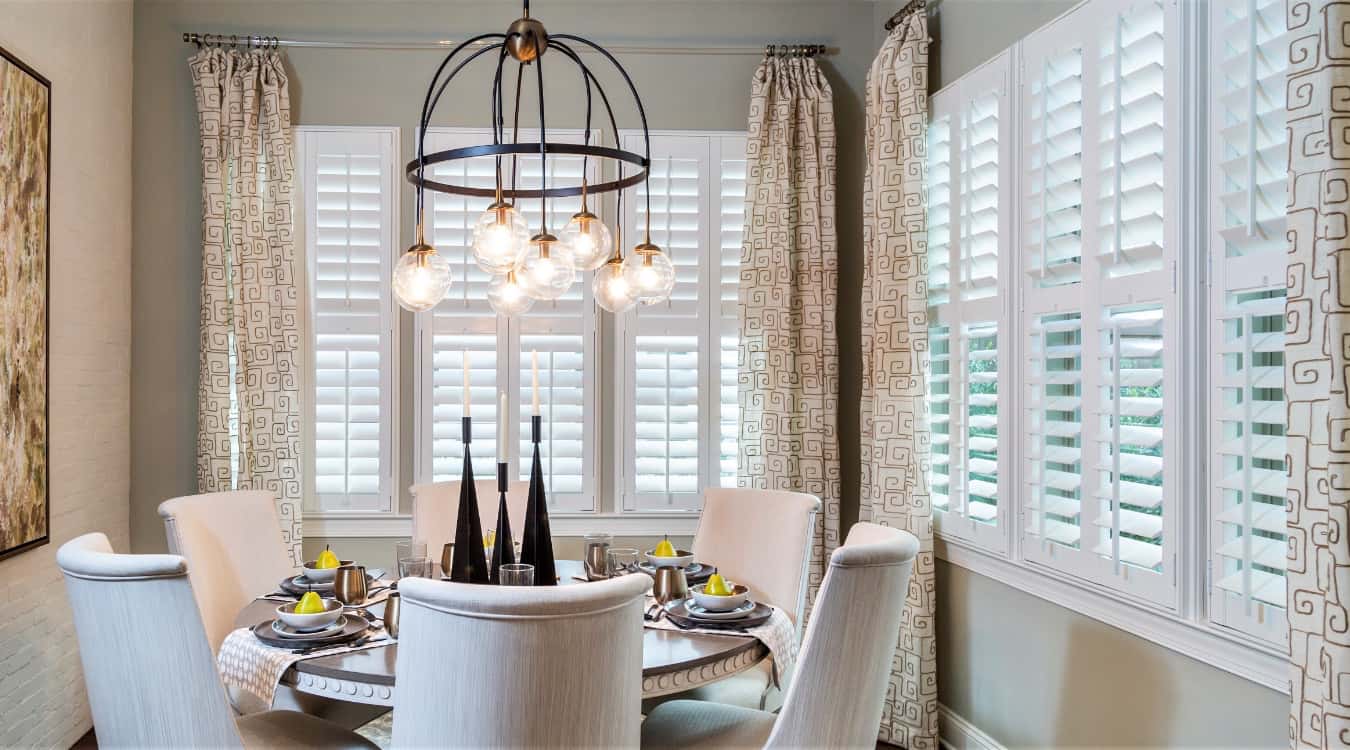 From our expert craftsmanship and innovative products to unparalleled customer service, Sunburst is pleased to be Gastonia's best local shutter provider, serving hundreds of homeowners every year.
Why Gastonia Houses Need Interior Shutters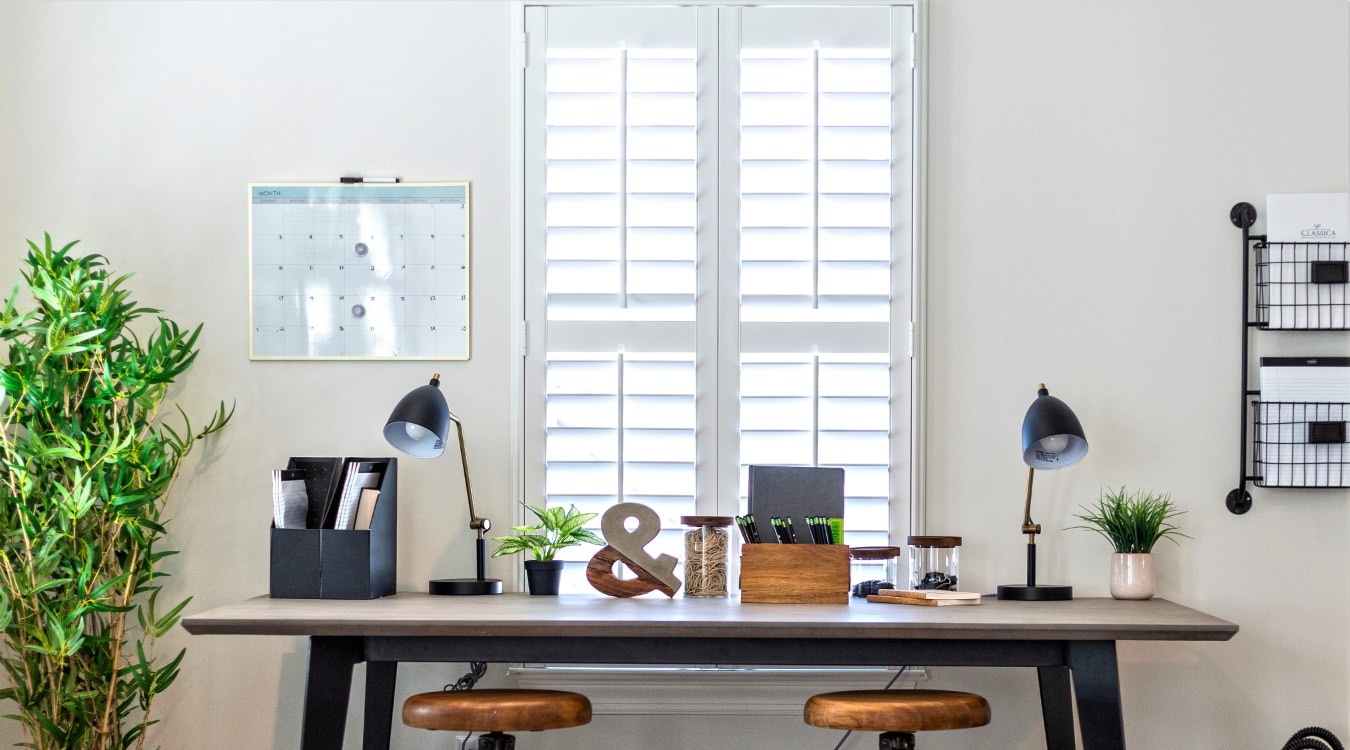 With so many Gastonia homes making use of interior shutters, there has to be a reason for it, right? In fact, there are several reasons to purchase interior shutters for your space. Here's why many homeowners are getting them:
Shutters are durable. More than any other window treatment, shutters last and last. Where a simple set of blinds or drapes from a store may fray, distort or fade out in less than a few years, shutters stand firm over time. With sturdy construction coupled with durable material, shutters will remain a lasting piece of your space for years on end.

Shutters help control temperature. Sure, blinds or shades may block some outside light, but are they any good at regulating the temperature indoors? Unless you plan to spring for extensive window insulation, heat is able to still pass through your windows without trouble. Solid plantation shutters can greatly reduce that heat movement.

Shutters are stunning. No other window treatment can match the timelessness, elegance, versatility, and wow-factor of interior shutters.
Polywood - Gastonia's Best Faux Wood Shutter
If you're shopping for a quality faux wood shutter in Gastonia, you're in the right place with Polywood® plantation shutters. Polywood Shutters beat out other shutters with their aesthetics, sturdiness, and temperature control.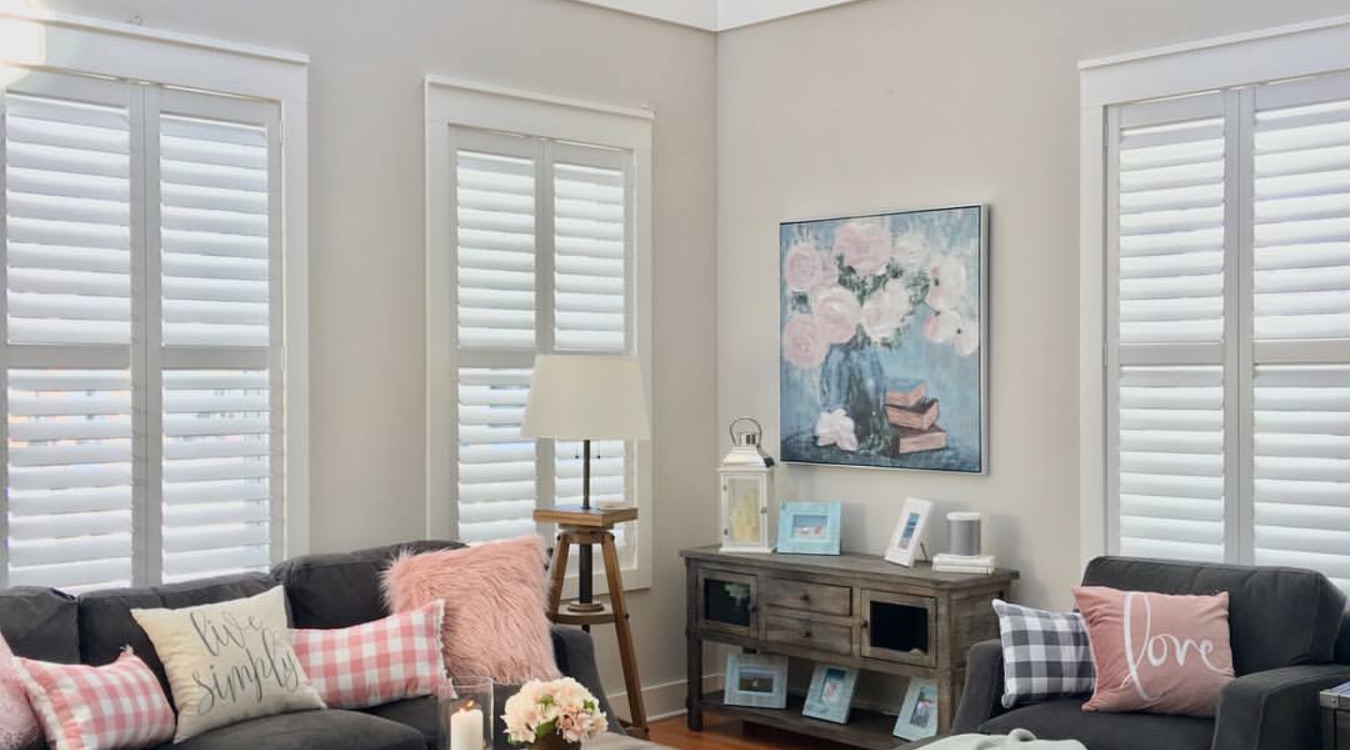 Their clean, elegant lines and exact build to your window give you light control while adding great looks. As they're offered in several finishes and stains, they can complement any style of room. And despite how strongly the sun beats down on them, they will never chip, warp, or lose color. In addition they're heat and moisture-proof and are backed by one of the strongest shutter warranties in Gastonia.
And in terms of energy efficiency, their one-of-a-kind weatherstripping system reduces nearly 50% of all energy that comes through your window, lowering the cost of your energy bills. Polywood Shutters are completely American made, using green materials and finishes. If you're interested in a slightly stripped down and budget-friendly shutter, consider our builder-grade Studio Shutters.
Beautiful Wood Shutters In Gastonia
Capture the beauty of natural wood shutters for your home with Sunburst's Ovation® Wood Shutters. Ovation Wood Shutters are one of the best-selling wood shutters in Gastonia because of their stunning, solid furniture-grade teak wood. Real wood shutters bring a natural intrigue to the space with their grain and knots. And because Ovation Shutters are customizable with over 28 stains, you're easily able to get the perfect one for your home design.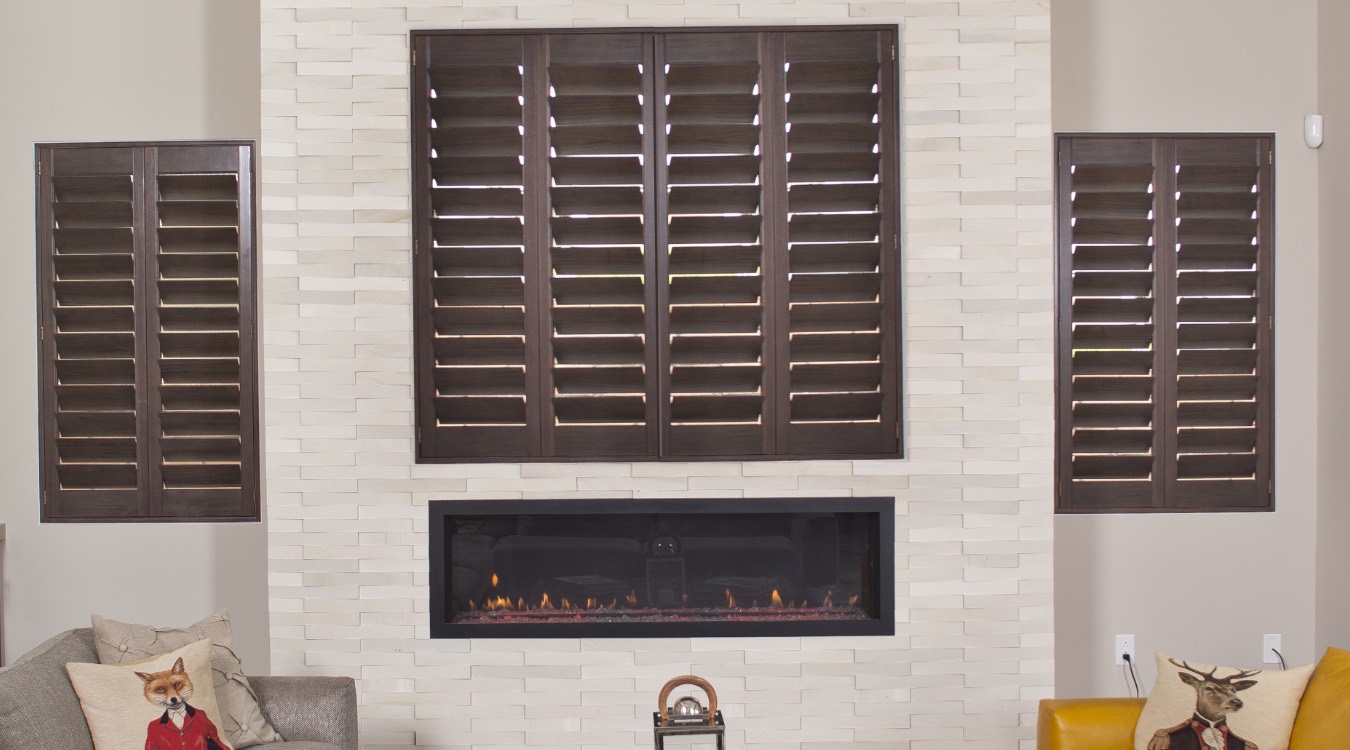 If you're looking for an even more natural look, look at our reclaimed wood shutters available in Gastonia, North Carolina. Every shutter is constructed with reclaimed wood from throughout the country and comes with its own unique story. Whether the wood is sourced from an old fence, barn, or another house, it comes with its own characteristics that make it an original piece of art right in your home.
Sunburst Creates Custom Shutters for Gastonia
The Sunburst Shutters building process is wholly unique, and is the reason why we're able to provide the best custom shutters in Gastonia. Here's our process from beginning to end:
Make a call to 980-231-1116 or fill out our contact form to schedule a time for a face-to-face meeting with one of our window treatment reps.

Your Sunburst Shutters rep travels to your home to measure your windows for you, explain all your shutter and window treatment options, and give you design tips.

Pick the shutters you want from our extensive catalogue and complete your order.

A little while later, our installation crew returns to your house to install your new custom shutters while you sit back and watch.
And there it is. You can get the best custom shutters in Gastonia from the comfort of your home. Since our team is there with you to help every step of the process, you'll get shutters that are an exact fit to your space.
Polywood Shutters Deliver Exceptional Energy-efficiency And Are Eligible To Save You Up To $1200 With The Energy Tax Credit!
Sunburst's patented Polywood® composite wood plantation shutters do more than provide a classic look and an amazing level of control over sunlight. These shutters will reduce your energy expenses! Polywood shutters can conserve heat and air conditioning to a maximum of 30 degrees Fahrenheit. The energy-efficiency characteristics of these innovative Charlotte window treatments have even been approved for a 2023 federal tax credit as much as $1200.
Sunburst Offers Blinds & Shades in Gastonia, Too
Although shutters may be in our name, they're definitely not the only window treatment we sell. From blinds to shades and more, Sunburst is your local shop for any window covering in Gastonia.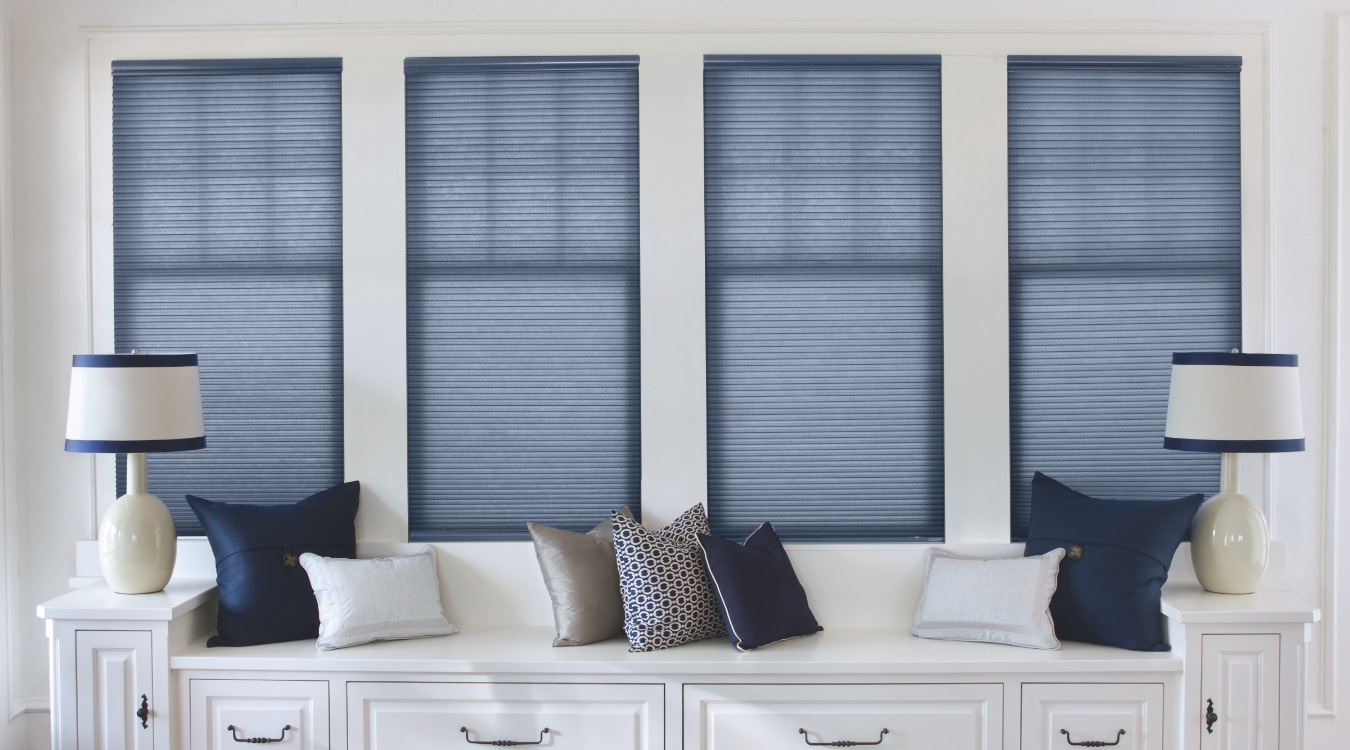 The cleanliness and ease of use of shades are hard to argue with. We carry the highest quality cellular shades, roller shades, motorized shades and woven shades–with hundreds of choices in textures, colors and more.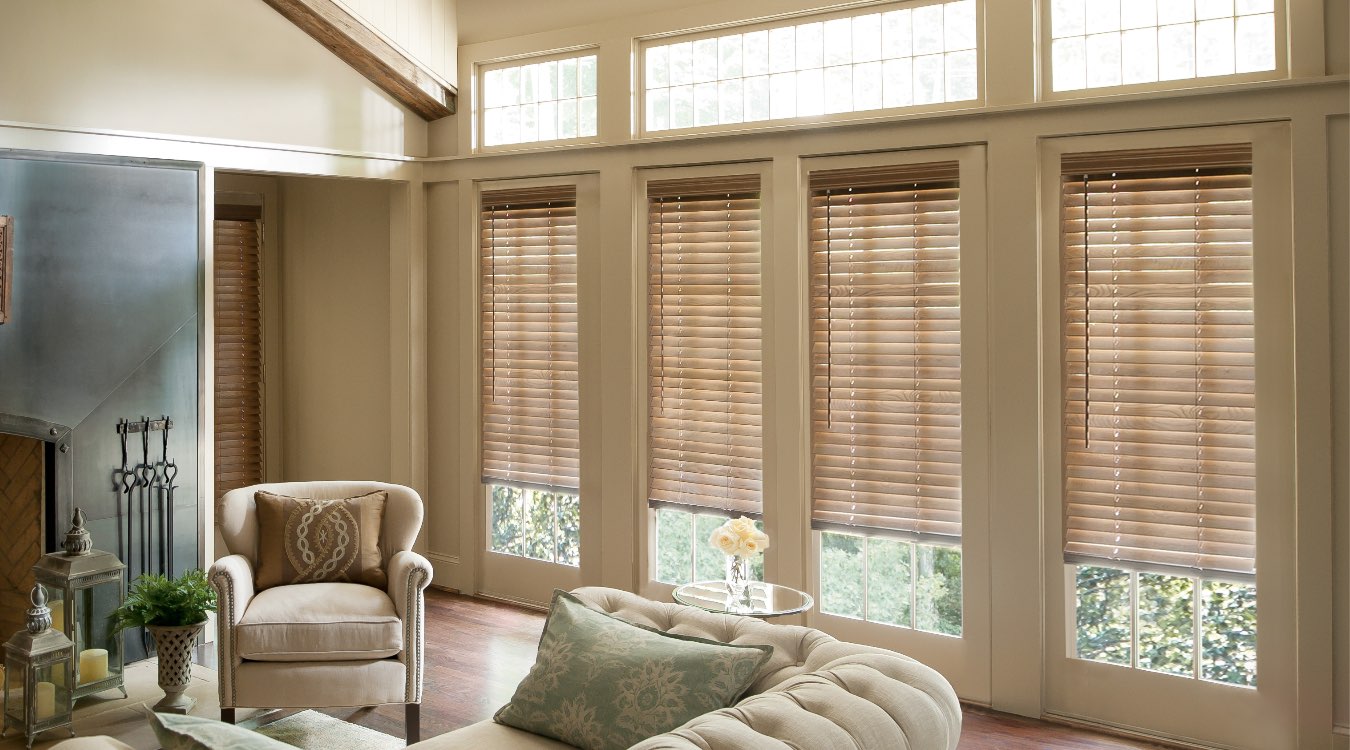 We don't stop at creating the best shutters in Gastonia. Our local blinds in Gastonia give you the resilience and lastingness with the low maintenance and simple design of blinds. With configurations available in basswood and faux wood, with tons of options including cut-outs and valances, blinds answer that old question of "Is it possible to build a better blind?"
Work With The Best For Your Gastonia Window Treatments
Your windows are an extension of your unique style, and your home. So go with the best local window covering provider in Gastonia - Sunburst Shutters Charlotte. Our highly rated products, commitment to our customers, and our decades of service in the shutters and window covering world give our customers confidence that they'll have the smoothest shutter-buying experience and custom product in their home.
So call Sunburst Shutters Charlotte today at 980-231-1116 to schedule your free window design consultation in Gastonia or any of the nearby communities. We're eager to answer any questions you have regarding window design.