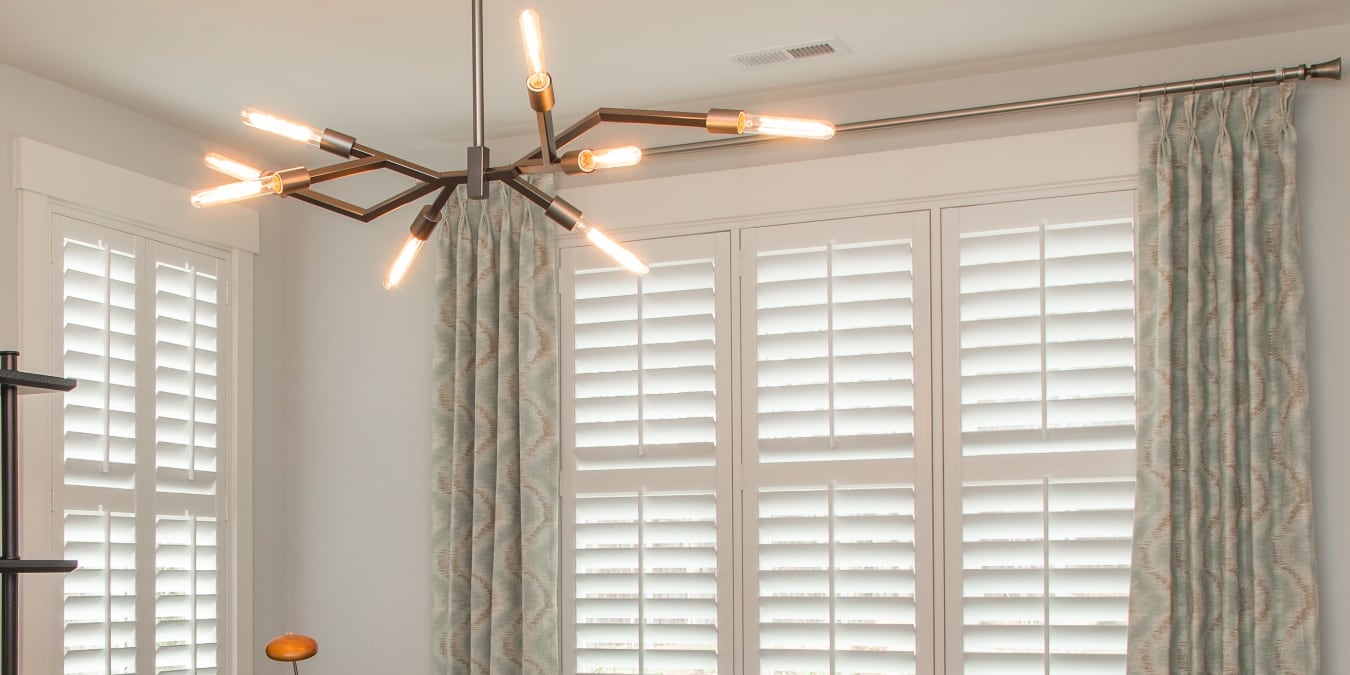 Home Office Window Treatments In Charlotte That Work For You
If you find yourself working from home these days, you might need assistance in improving your Charlotte home office. You can begin with your window treatments. Need to see a quick comparison of the different home office window treatments?
Click here to view our window treatments chart, for window treatments perfect for your home office.
Options like plantation shutters and motorized window shades are smart home office window treatments for Charlotte workers who want to keep comfortable and focused while working without giving up your home's personal charm. These treatments have an added bonus of helping you look more professional during online conferencing! Read how you can employ these window treatments to your best interest.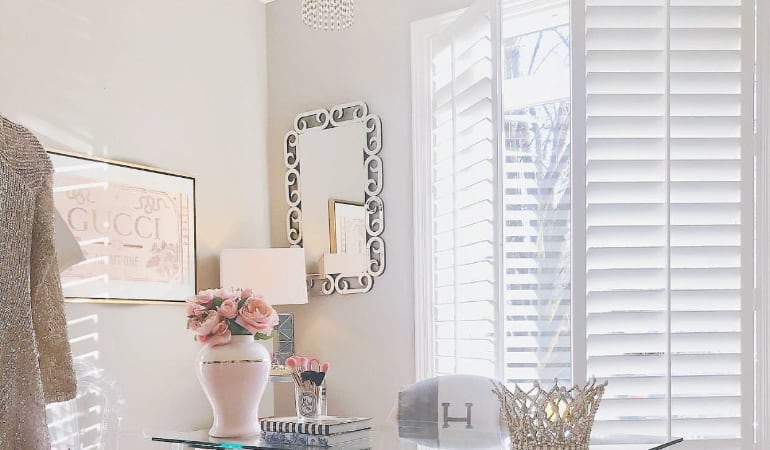 Plantation Shutters: A Top Choice In Home Office Window Treatments In Charlotte
Working from home is often a challenge, so select home office window treatments in Charlotte that will make the workday more pleasant. The unique design of plantation shutters makes them a popular option when you want to manage your area's light and temperature.
A benefit of working remotely is that you have total control over the temperature. However, you aren't looking to inflate your energy costs by using your furnace or AC too much. Faux-wood shutters with insulating capabilities can help. On a hot, sunny day, keep your shutters closed to reduce the interior temperature and eliminate the glare on your display screens. During colder months, that insulating ability helps reduce drafts.
Ready to lower your electric costs or fed up with sitting in a dim office? Adjust the louvers on your Polywood shutters for sunlight that you can redirect from your screen and into dark corners. Shut them again to remove potential diversions like delivery trucks or the neighbor's dog. Or shut your shutters for privacy after the sun goes down when you stay up late working.
If you'd like pizzazz in your home office, the fine edges of interior shutters create an elegant architectural detail that dresses up even the most ordinary windows. They come in a multitude of attractive neutral colors as well. Whether you select crisp white Polywood shutters or a warm-toned hardwood shutter, your dazzling home office window treatments will make you excited to work from home!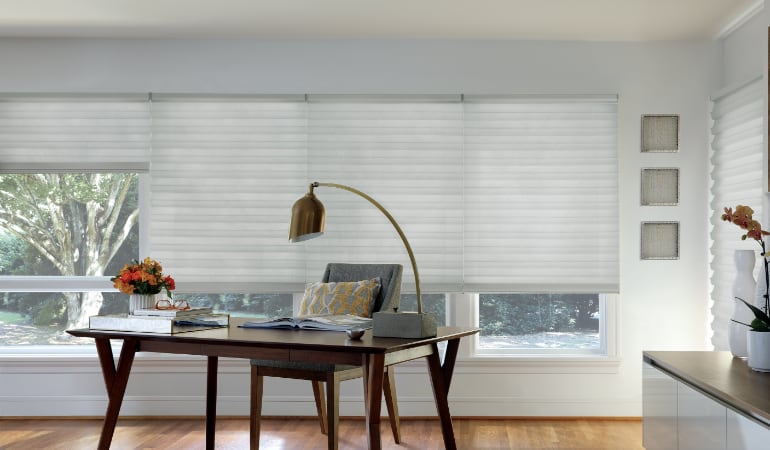 Motorized Window Shades Are A Smart Choice for Charlotte Workers
Like plantation shutters, many styles of window shades deliver sunlight control and insulating capabilities for your home office windows. Light-suppressing blackout shades block sun glare. Eco-friendly cellular shades protect you from chilly drafts and hold in warm air. Transitional shades give you the option of filtered natural light or complete dark.
Window shades can be found a range of colors, textures, and materials to match your unique taste and create the ideal atmosphere for your work space. You may enjoy a distinctive option like Roman shades that provide an elegant backdrop during virtual meetings or a simple and functional product like roller shades to prevent disruptions.
When you figure out the type of window shade you want, consider the motorized version to bring even more convenience to your work area. Motorized window shades function with a remote controller instead of your hands. This gives you numerous options for managing the light in your home office.
When the sun moves and a glare breaks your concentration, you are able to shut your shades with the press of a button without leaving your desk. If the sun is impacting your appearance on a remote meeting, or you realize your office looks too dark on your monitor, you can let down or raise up your motorized shades right from your workstation without interrupting the meeting. Your boss and colleagues will be impressed with your work from home set-up when you improve your home office window treatments in Charlotte.
Are You Still Contemplating Which Window Treatments Is The Best For Your Home Workspace? We've Included This Chart To Help You When Comparing All Of Your Options.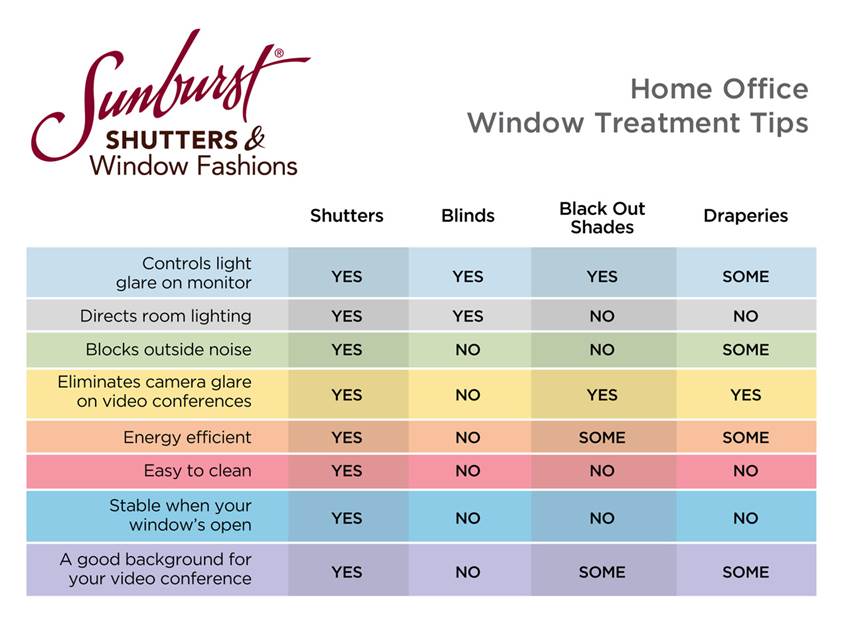 Get To Work In Your Charlotte Home Office with Window Treatments From Sunburst Shutters
You'll work better when your window treatments keep you comfortable and distraction-free. Speak with the window treatment experts at Sunburst to make the right choices for your home office. To schedule a complimentary in-home consultation, call us at 980-231-1116 or complete the form on this page.