The Best Window Treatments For A Home Library In Charlotte
The window treatments in a home library in Charlotte could appear to be insignificant, but they really do provide quite a bit to help you design the most suitable reading atmosphere. The top choices will let you manage light, privacy, and even the room's temperature! When your home library window coverings fall short of those standards, we suggest switching to durable faux-wood shutters. Here are some good reasons to make the change.
Switch Between An Open And Bright Or A Dimmer And More Private Home Library With Polywood Shutters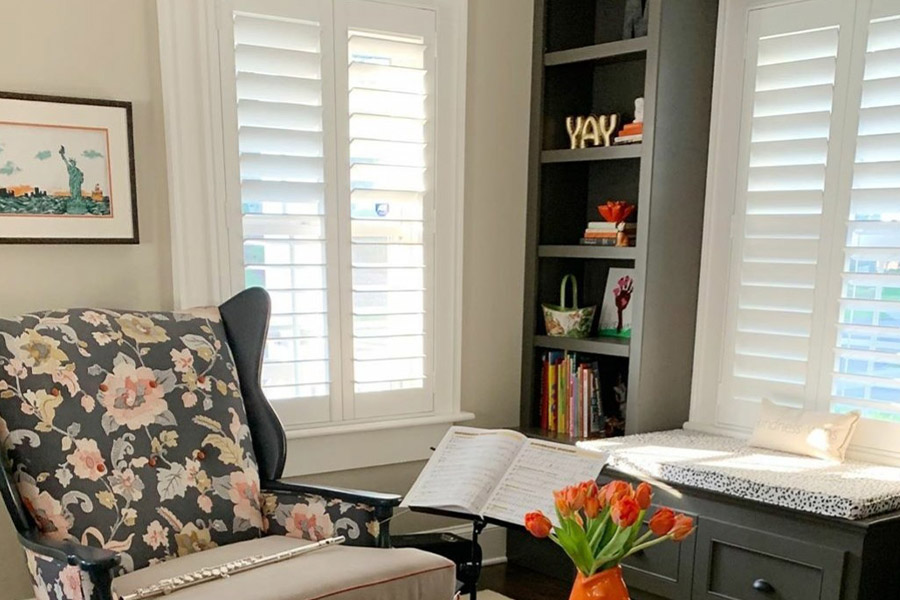 Each home library should have enough sunlight for enjoying a book or magazine. However, there may be times when an overflow of light causes eye strain. And what if you would like a more foreboding setting for settling in to a a tense thriller? The top window treatments for home libraries in Charlotte allow you to simply adjust from a flood of sunshine and darkness.
Interior shutters are a cinch to operate. You are able to swing out the panels for full light when electric lights aren't sufficient for reading or if you are looking to save on your utility costs. If the sunshine is overwhelming, close the panels but tilt open the slats for filtered light. You can even use the slats to redirect glare from your paper or reading device and get the ideal light level to prevent straining your eyes. And when you want a cozy, dim home library, the opaque faux-wood elements come together tightly to block nearly all exterior light.
Block Outside Distractions And Noise When You Read With Polywood Shutters
When it's finally time to settle down with your favorite novel, the one variable you don't want to deal with is a disturbance from outside. Composite interior shutters are able to block these annoyances when you want complete peace and quiet. Simply shut the shutter panels and slats if you would rather not see dog walkers or Charlotte vehicles in your field of vision as you read. Your closed shutters will inhibit outsiders from glimpsing you in your secluded space as well. And different from most other products, you can adjust your slats to let in a little light so you can read while preventing sightlines from outside your home.
Solid faux-wood shutters are also great at stifling outdoor commotions in comparison to window shades and blinds. Did your neighbor start a lawnmower right when you were getting to the good part of your book? Shut your shutters for some solitude while reading.
Keep Out Unwanted Drafts With Polywood's Insulating Capabilities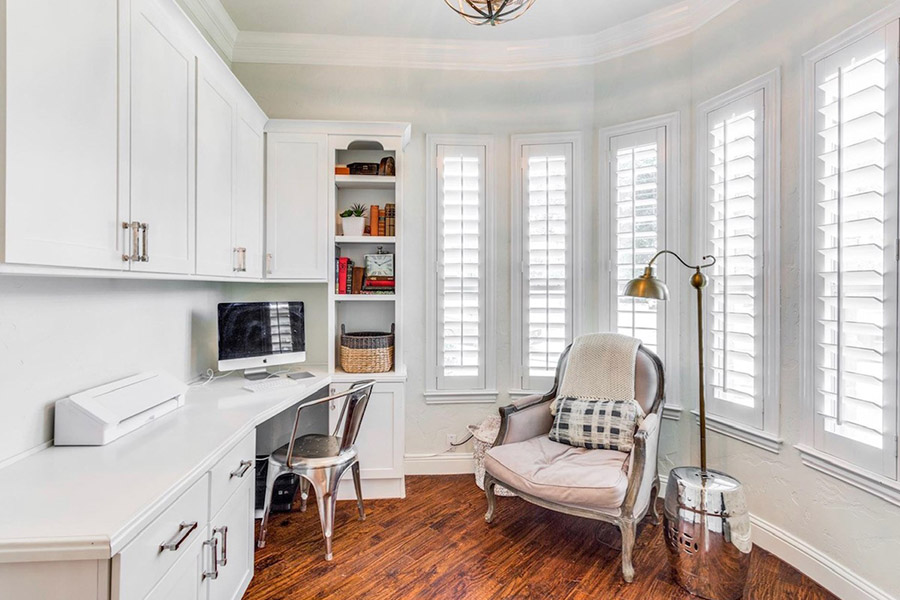 Along with providing solutions for sun and outside commotions, your distinctive faux-wood shutters keep out drafts that may chill you while you relax in your favorite reading chair.
Polywood shutters offer better energy efficiency
than any other window treatment. Both cold air and hot UV rays cannot penetrate their composite material. And their exacting construction prevents outside air from moving past borders. Interior shutters can stop close to 30 degrees of temperature transfer from your area's windows to shield your prized reading materials from sun and drafts while keeping you comfortable.
Sunburst Shutters Charlotte Has The Leading Window Treatments For Your Home Library In Charlotte
Come up with the ideal home library with durable, faux-wood shutters from Sunburst. Our team will bring shutter samples to your location to demonstrate how they will transform your space. We then fabricate your shutters to the precise dimensions of your job. Take the first step by calling 980-231-1116 or submit the form on this page to arrange your complimentary on-site consultation.