The Best Living Room Window Treatments In Charlotte
Many Charlotte families design their living rooms for formal entertaining, others for family play and relaxation. Either way, well-crafted window products will make your space more welcoming and pleasant. Distinctive coverings like Polywood® shutters or window shades add style while helping eliminate drafts and glare.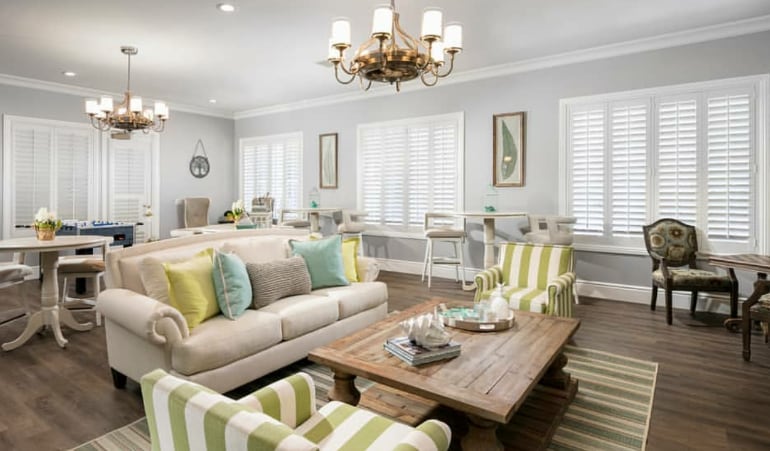 Plantation Shutters Control Light And Interior Temperature
For most Charlotte residents, the living room serves as a multipurpose room where they host parties, spend time with loved ones, and wind down after work. Popular plantation shutters are a smart choice for your living room. Composite Polywood® shutters and real wood shutters are durable and low maintenance for families with small children and dogs but with enough beauty to make a lasting impression. The wide louvers are impressive and can be cleaned quickly with a cloth to remove dust and fingerprints before visitors arrive.
The easy-to-move louvers also allow you to manipulate the light in your living room. If you want something less than all-out light, shut the shutters and tilt the louvers to get the sun's rays out of the view of your visitors or off your television. You might want to shut the louvers tight during the hottest part of the day to stay cool.
Some houses have oversized or a large number of windows in the living room. These allow in the or the day and cold drafts. While beautiful, they are known for letting in excessive heat and windy drafts. They add beauty but also let in heat and drafts that elevate your energy costs and decrease your comfort levels. When looking for the most efficient living room window treatments in Charlotte, consider plantation shutters. Polywood® products block chilly drafts and UV rays better than other window treatments to maintain a comfortable space for all of your activities.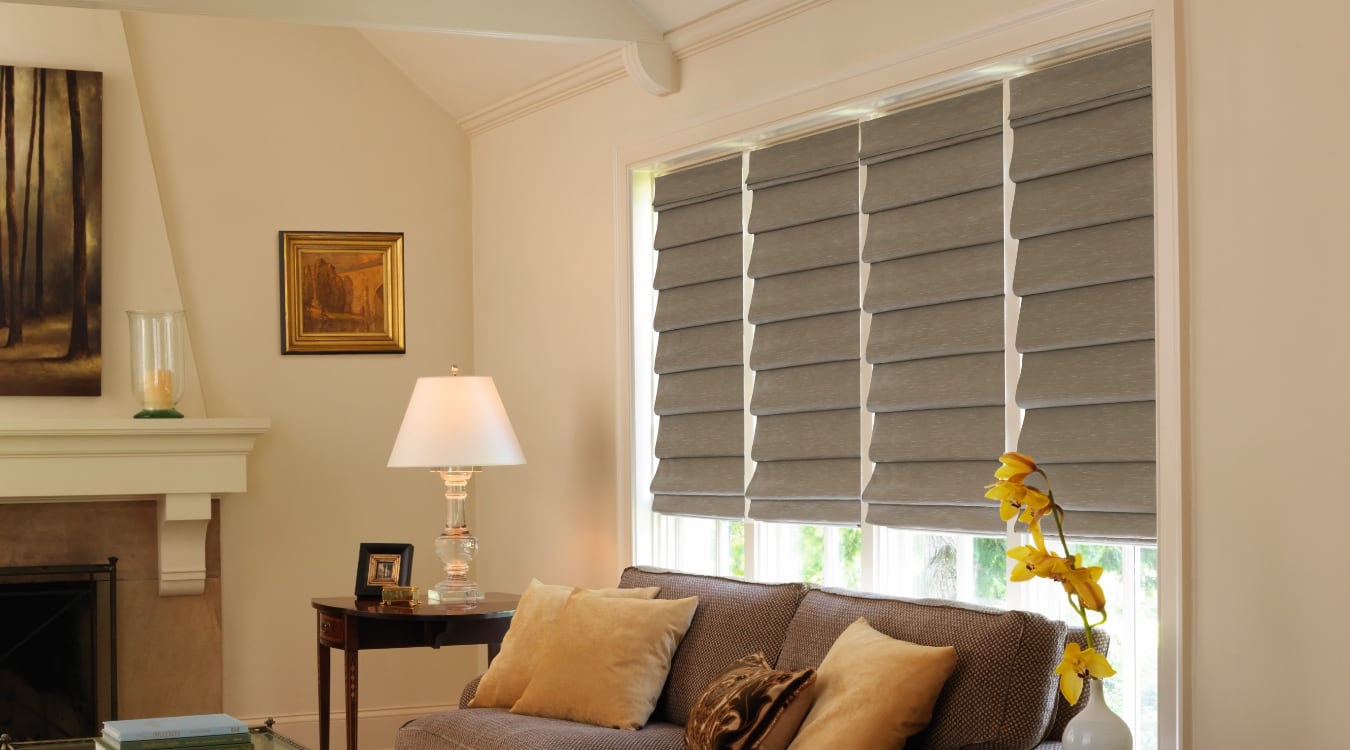 Roman Shades Deliver Function And Appeal
If you have a formal living room, you may want more colorful window treatments . But you don't have to sacrifice function and easy operation. You can get a fully versatile option with beautiful Roman shades.
When you open Roman shades, the the fabric clusters together but without the hassle of pullbacks like curtains or drapes. Instead, Roman shades open and close with pull-cords or a pull-bar. You can even install motorized shades so you don't have to go to the window to adjust the shades can adjust your shades at the touch of a button. You don't have to step away from a guest to lower the shade. You can find Roman shades with a multitude of fabric, color, and hardware options to blend seamlessly with the design of your living room.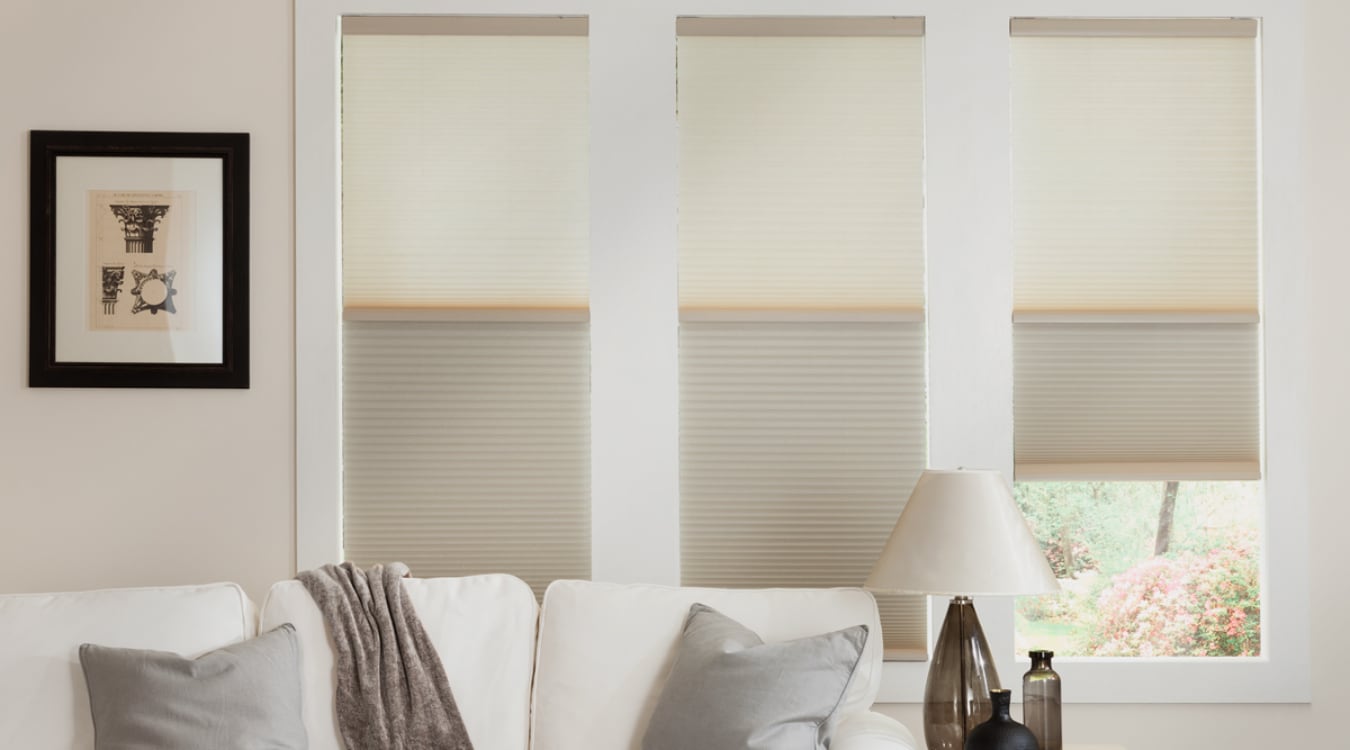 Cellular Shades Improve Energy Efficiency
Another preferred product for energy-efficient living room window treatments in Charlotte are cellular shades. Their fabric cells capture air to minimize drafts within your space. The insulating benefit will help you stay warm when you're relaxing on a chilly winter afternoon on your comfy chair and keep you cool during hotter months when you're hosting a party.
When considering cellular shades, don't loose sleep about them being too boring for your decor. They are available in a range of pleat sizes, textures, and colors to fit your design aesthetic. You can also choose between translucent and solid fabrics and all levels in between to achieve the desired amount of privacy and sunlight. For all-around adaptability, check out window shades that let you open them from the top for sunlight while remaining closed at the bottom to ensure privacy.
Time to Upgrade With The Best Living Room Window Treatments In Charlotte? Consult With The Pros At Sunburst Shutters Charlotte
Bring style and energy savings to your Charlotte living room with quality window treatments from Sunburst Shutters Charlotte. Our consultants will answer your questions and offer tailored suggestions for your living room. To get started with a free in-home consultation dialreach out to 980-231-1116 or fill out the form below.