The Top Nursery Window Treatment Ideas In Charlotte
When you've got a child on the way in Charlotte, you hope to get every detail of your new baby's nursery just right -- and that includes the window treatments. But prior to picking the right window covering, keep in mind that versatility and safety matter. Newborns can yank down drapes or get caught in corded blinds. These treatments won't stop exterior light and drafting for good sleep either. As an alternative, install child-friendly, energy-efficient louvered shutters or cellular shades as window treatments for your nursery in Charlotte.
Louvered Shutters Will Keep Your Nursery Safe, Cozy, And Stylish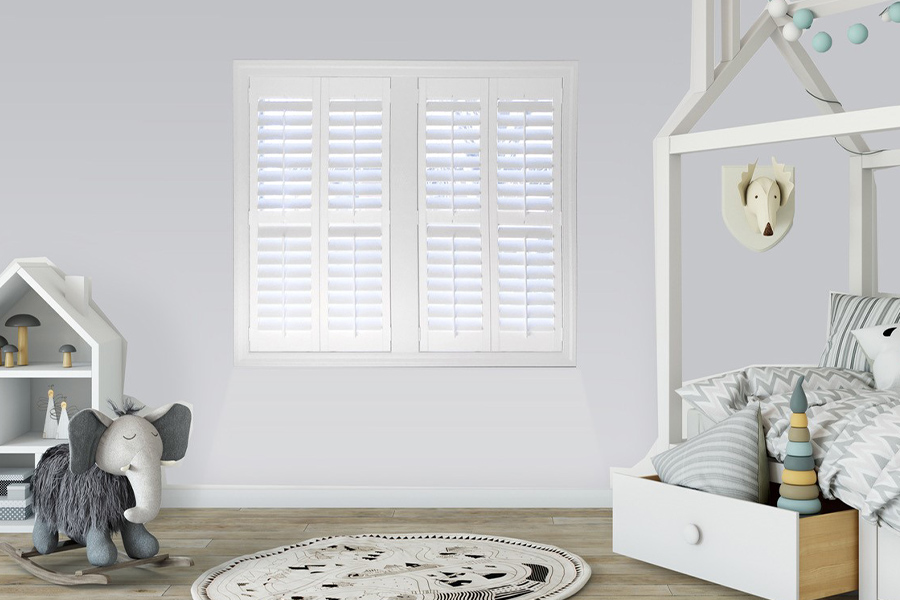 Plantation shutters maybe aren't at the top of your list of nursery window treatment ideas in Charlotte, but they should be! These superior window treatments look incredible in any area. Their solid panels offer an eye-catching accompaniment to the fluffier elements that come with a baby nursery. You might install
white faux wood Polywood® shutters
in spaces with vibrant or pastel color schemes. Stained hardwood shutters could work better in the event your nursery has nature-themed elements or you would like to coordinate with the present wood finishings. And when you update the decor as your loved one grows, your shutters will continue to work well with the room's new feel.
Interior shutters have a unique composition that makes them suitable for children's bedrooms. Instead of hanging drapery or cords for a child to grasp on or get ensnared by, plantation shutters feature solid panels with rows of louvers incorporated into a frame around the window. They even clean easily whenever they get those unavoidable marks from small hands.
Shutter slats and panels provider many methods for adjusting sunlight and privacy in your baby's room as well. Swing back the panels for a sun-splashed playroom or secure them and rotate the slats up to let in some sunshine and angle it to the place where your little one spends time. Then close the panels and slats to keep out virtually all sunlight for naps and bedtime.
Shut interior shutters block cool breezes as well. Air isn't able to get past natural wood and faux wood like it will through fabric window treatments. And premium Ovation® and Polywood shutters use first-rate craftsmanship to minimize gaps where air might get past. Polywood shutters also feature the best in weather protection that makes them the most energy-smart nursery window treatments in Charlotte and makes certain your room remains at a consistent temperature for a pleasant rest.
Cellular Shades Lend Added Efficiency and Color To Nursery Windows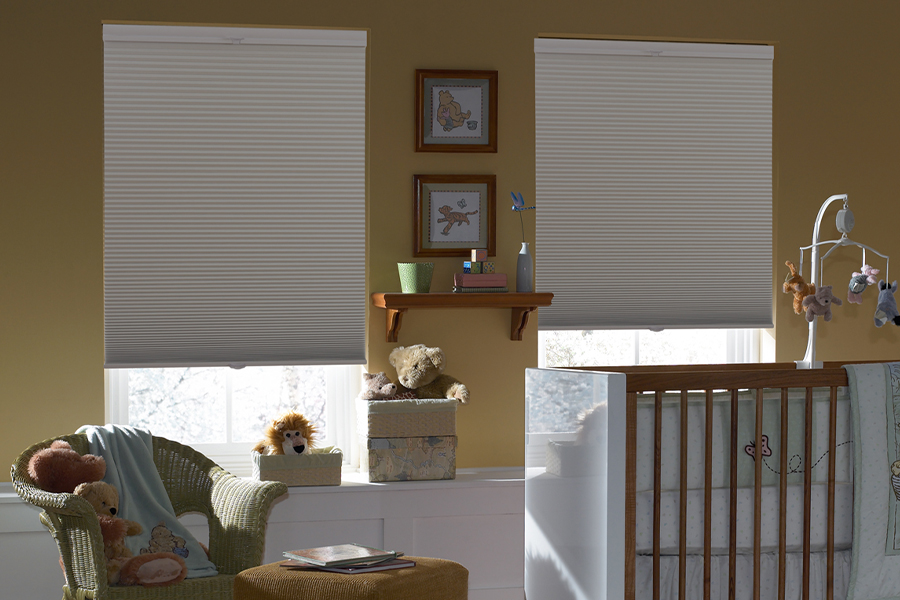 In the event you prefer a softer texture for your nursery window treatments,
consider cellular shades.
These products come in different materials, colors, and patterns for you to choose from. You'll even discover other kinds like top-down/bottom-up shades that provide more adaptability with outside light and privacy or non-corded shades that a child isn't able to become tangled in.
The top asset of cellular shades is their superior efficiency. Their structure creates little honeycomb-like cells that catch air going through your windows before it enters the nursery. They assist in keeping the the space at a pleasant temperature and energy bills down.
Would You Like Additional Nursery Window Treatment Ideas In Charlotte? Turn To Sunburst
Whether you are looking for nursery window treatment ideas in Charlotte or window treatments for a separate part of your interior, Sunburst Shutters Charlotte is here to help. We customize a wide selection of window products that make your residence more attractive and comfortable. Reach out to 980-231-1116 or submit the following form to schedule a free on-location appointment and discover amazing window treatments in Charlotte.