What Are The Leading Window Treatments For Over The Kitchen Sink In Charlotte?
When you're shopping for window treatments, don't overlook the kitchen -- even if you only have a single window over your sink. If you're worried about the constant spattering of food and water damaging a window treatment over the kitchen sink in your Charlotte home, install plantation shutters. These popular options bring style to any space but are noted for withstanding the kitchen's heat, moisture, and messes.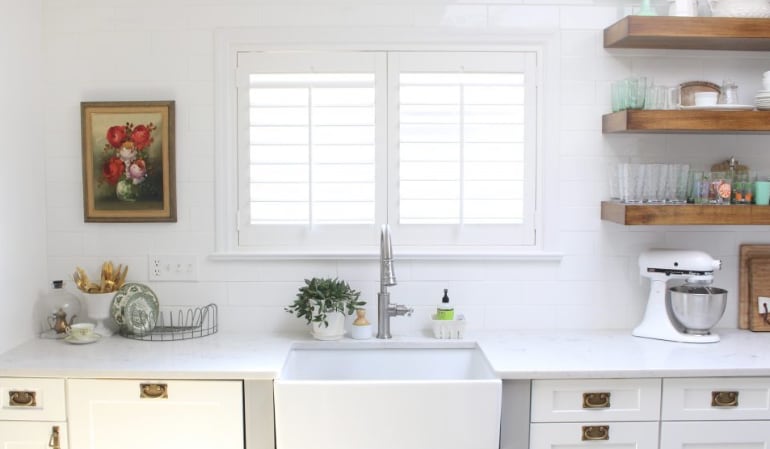 Dazzling Faux-Wood Shutters Look Attractive In All Charlotte Kitchens
Window treatments over your kitchen sink in Charlotte need to be practical and long-lasting. However, you can still get plenty of elegance when you hang popular, faux-wood plantation shutters.
This sought-after product melds effortlessly with all types of kitchens. They come in in several shades of white that harmonize well with kitchen fixtures and decor, and their strong panels of functional louvers counteract nicely with the the flat elements found in your kitchen. Interior shutters add subtle appeal to both extravagant and simplistic kitchens and every one between.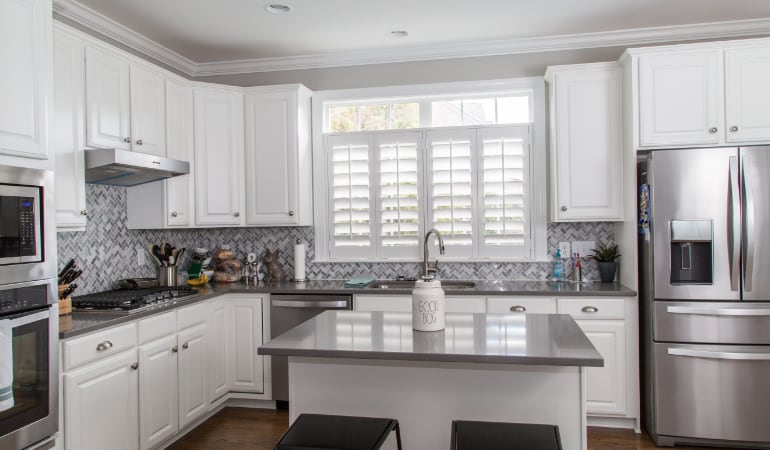 Faux-Wood Shutters Resist Damage From Heat And Moisture
Do you ever see moisture on window panes when you're trying to boil water or wash dishes? That same condensation clings to window treatments over your Charlotte kitchen sink, where it can damage traditional cloth curtains or shades over time.
Instead, you should go with Polywood shutters. Their wood substitute and durable finish are resistant to moisture and heat. In fact, these products are completely waterproof. They will never warp, chip, or split from high levels of humidity.
The sun and changing seasons won't affect your Polywood shutters. When Installed for your kitchen window, your shutters are faced with chilly drafts and intense UV rays. Your shutters won't shrink and expand from the cold outside and heat inside, nor will they suffer from fading due to high levels of sunshine.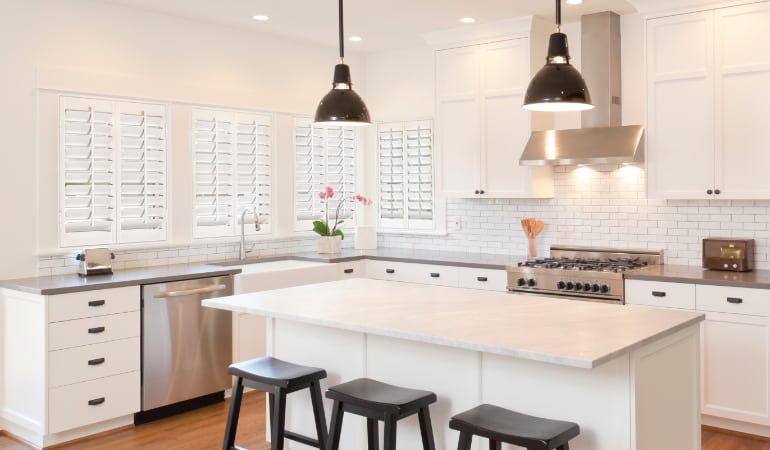 Interior Shutters Give You More Light For Kitchen Work
Lighting is important in your Charlotte kitchen. You don't want to cut or burn yourself because the lighting is too dim! Plantation shutters provide the amount of light you want and adjust easily. Just swing open the panels or effortlessly move the tilt rod to shift the louvers. There's no need to get frustrated with twisted, hard-to-adjust cords or a pull bar that's hard to grab on to when you want to change the lighting.
For the brightest light, let the panels swing open entirely. If the sun is blinding, move the panels back in place and adjust the louvers to your desired light settings. You can also shift the slats to reduce glare off counters and flat surfaces in your kitchen. If you want to avoid strangers seeing into your home after dark, close everything tightly for total privacy.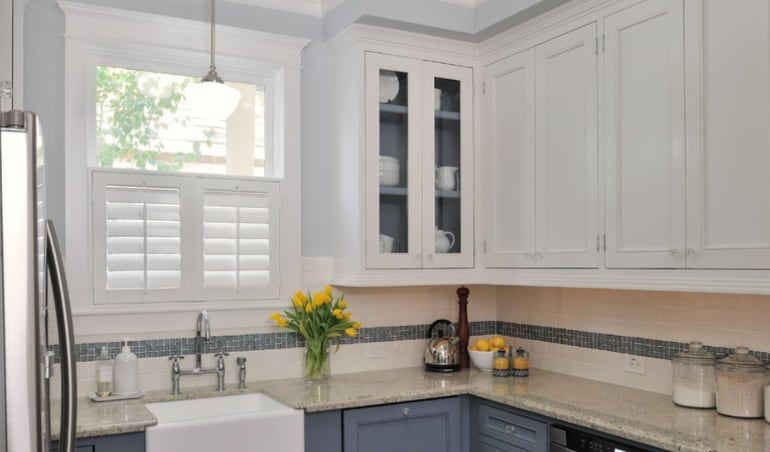 Polywood Faux Wood Shutters Are Simple To Clean
It's common for kitchen surfaces to become covered in food particles and grease stains. The window treatment over your Charlotte kitchen sink should offer ease of cleaning. With this in mind Polywood window treatments are perfect on a kitchen window. Their hard, smooth finish will not trap odors or collect stains as fabric shades do. A simple wipe with a soft, dampened cloth, and they look good as new.
You'll never have to waste time gently reaching your cleaning wipe around the openings as you would with traditional metal blinds. Plantation shutter slats are durable, and you can choose wide louvers for your custom shutters that leave large spaces for your hand and cleaning cloth.
Get The Perfect Window Treatments For Over Your Kitchen Sink In Charlotte At Sunburst Shutters Charlotte
Sunburst Shutters Charlotte has the right window treatment for every window -- even the one above your sink. Speak with our experts about what you envision for your windows, and we'll be glad to help upgrade your kitchen. Reach out to us at 980-231-1116 or fill out the form below to request your no-obligation, on-site appointment.