What Window Treatments To Choose For Your Charlotte Custom-built Home
If you have decided to build a custom home in Charlotte, you strive to find the perfect finishing touches, down to the window treatments. There's a reason plantation shutters top the list of window treatments for custom homes in Charlotte. Their functionality and appeal incorporate well with any interior and allow you complete command over the sun's light. With these qualities you are able to quickly fashion an inviting atmosphere and accentuate the enticing features of your custom home.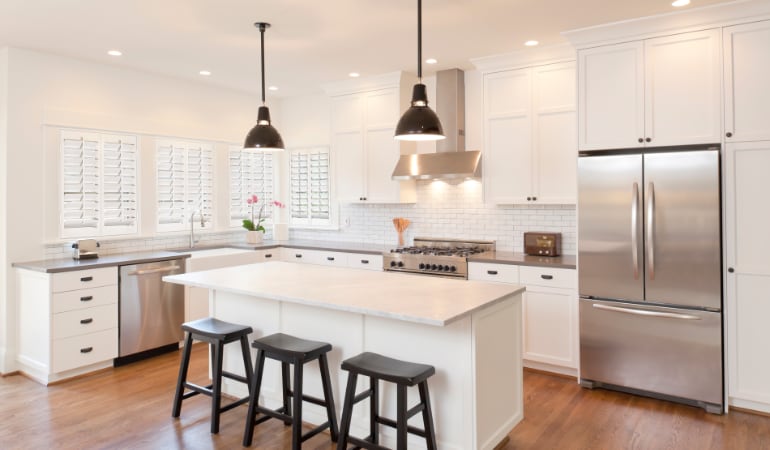 How Do Plantation Shutters Enhance a Custom Home?
When you want to draw attention to your custom home, think about window treatments that residents in Charlotte incorporate to enhance their homes. Plantation shutters blend beautifully with any design choice. They are a focal point and make a home memorable to onlookers who are used to seeing out-of-style metal blinds and curtains. Their practical but sophisticated design needs nothing extra to provide a dazzling dynamic and make a great first impression on guests.
Plantation shutters are a smart finish for a custom-built home. Their distinct construction and adaptable color options work well with any interior, so you are able to ask your builder to put them in each window without worrying about how they will match once you furnish your home.
Plantation shutters can also be designed to fit regular windows and uniquely sized ones, so you have the ability to utilize them for windows of any type and save yourself the hassle of selecting various window treatments. That's one less detail to figure out during the busy home design phase!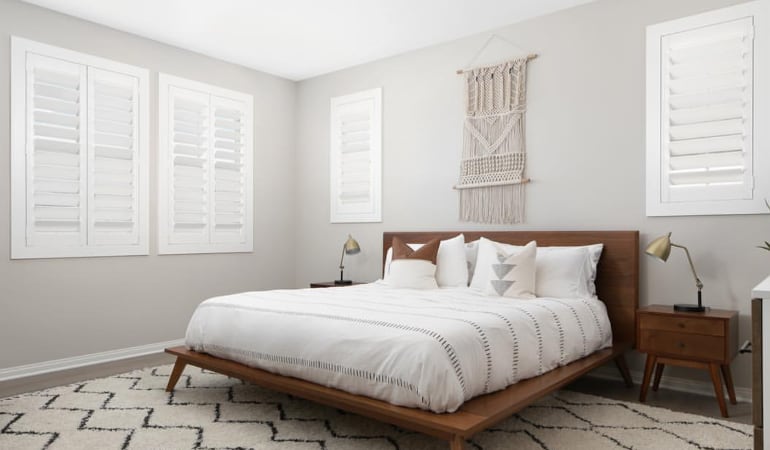 How Do Plantation Shutters Let Homeowners Filter Natural Light?
Everyone loves the appearance of a well-lit home. Although you are likely to select captivating electric lights to brighten your custom home, sunlight has unique qualities that can make a room look larger or change its overall feel.
Unfortunately, sunlight is unpredictable. As the sun moves throughout the day, the quantity of light entering your new home changes, and you will need to adjust your window treatments to redirect the flow of light. When looking for window treatments for custom homes in Charlotte, homeowners prefer composite Polywood® and solid wood plantation shutters that let them manage the amount of natural light a room gets.
Gently move the tilt rod to change the angle of the shutter louvers during hours when the sun is in full force to give a room a more comfortable feel and adjust the louvers again to brighten things up when the sun has moved positions. You are even able to swing back the shutters at the hinges for a wealth of natural light to generate a bright, airy look and fasten them again for a cozier feeling.
Altering the slat angles also lets you to shift the sun's rays. When moving the louvers up or down, you can cast light even the darkest corners to make your space feel larger. You can also filter excessive glare away from your guests' sightline and surfaces where reflection occurs without lowering the louvers and eliminating the light altogether. With a gentle movement, you can control the quantity and the direction of daylight that shines within your home for everyone's comfort.
Get The Top Window Treatments For Your Charlotte Custom Home
Present your custom home in the best way possible with the endless appeal of plantation shutters by Sunburst Shutters. We install made-to-order window treatments that Charlotte property owners want for their custom-built homes. Reach out to 980-231-1116 or submit the form on this page to request a free in-home consultation.